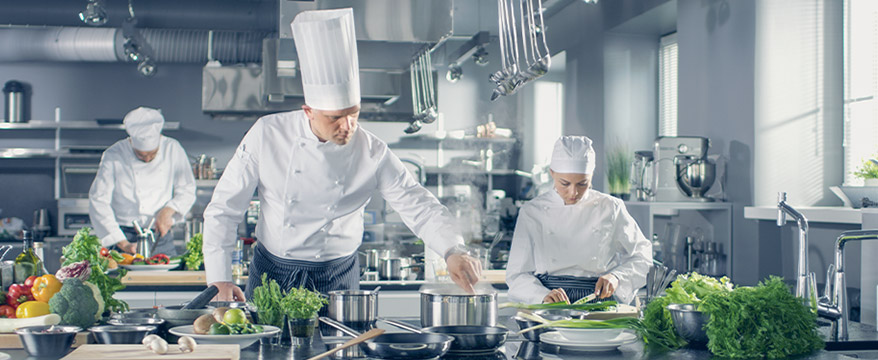 Deep Kitchen Cleaning for Infection Prevention
Our team knows what it takes to run safe kitchens. Commercial kitchens require strong and consistent health and safety protocols. With COVID-19 and other lurking pathogens, the safety stakes are even higher. A sanitary workspace is essential. Safe Facility Services adheres to a high standard of deep cleaning, and we can prove it.
We promote the Defendable Program, allowing executives documented evidence of sanitary conditions for customers and staff to review. The advanced certification process provides establishments a detailed and dependable way to measure, monitor, and maintain health standards. Safe Facility produces the best in safe cleaning practices and products. Business owners benefit from our official tracking and reporting system.
Our team at Safe Facility Services strives for the best in cleaning and sanitation, adding a proven layer of infection protection to help keep employees and guests safe. We lead the industry in commercial kitchen deep cleaning and have the years of experience, knowledge, and attention to detail needed to maintain a productive and safe kitchen.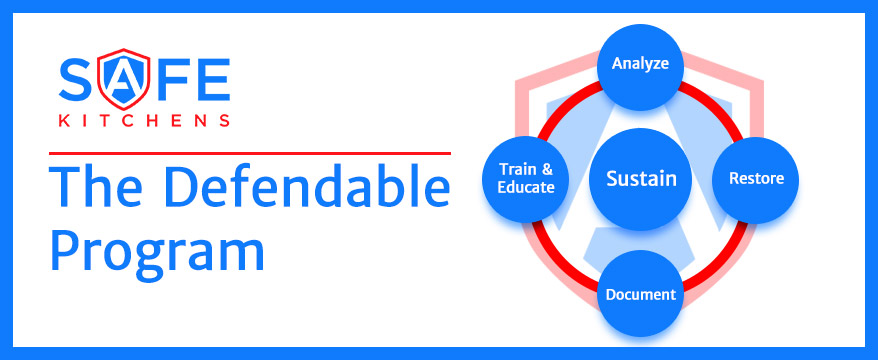 Five Steps to Safe Kitchens
We rely on a proprietary process to transform your commercial kitchen into a safe and successful workplace, a process we call our defendable program. Our simple five-step procedure offers valuable insight into the current state of your kitchen while providing options for improvement.
The Safe Kitchen process begins with a thorough review of your kitchen current SOPs and cleaning protocols. We review the current characteristics of your facility including, but not limited to, equipment types and ages, high touchpoints, and current cleaning agents. During this stage, we will also look at chemical usage to determine cost and effectiveness and create a custom solution for your establishment.
After completing your customized plan, we work with you to implement it, either on our own or as partners with your existing teams. We utilize a variety of cutting-edge technologies including dry vapor and electrostatic sprayers to generate the best results. To ensure that your safe kitchen remains exceptional long after our work is done, we implement staff training plans that focus on sustaining a clean and sanitary environment.
Our third step ensures that you have benefited from working with our team. We take the time to document outcomes, ensure OSHA and CDC compliance, and leverage state-of-the-art ATP testing to prove the effects of our deep cleaning services. This data offers objective detail to your defendable plan, showcasing your efforts at creating a safe, healthy, and sustainable establishment.
STEP FOUR: TRAINING AND EDUCATION
Our fourth step involves establishing best practices to maintain the cleanliness and safety of your facility. We provide training for your in-house staff and/or outsourced service providers, ensuring that they understand and utilize the best practices, tools, and products to complete their work.
STEP FIVE: SUSTAINABILITY
Because we know that "what gets measured gets done," our final step focuses on helping you create a sustainable environment by utilizing ongoing monitoring, which regularly collects data to ensure the level of cleanliness is maintained. We also provide reporting to help you manage exceptions at the touchpoint, unit, or regional level.
On top of monitoring, we use barrier products to provide an additional level of antimicrobial protection on key touchpoints for up to six months to create a more sustainable clean environment.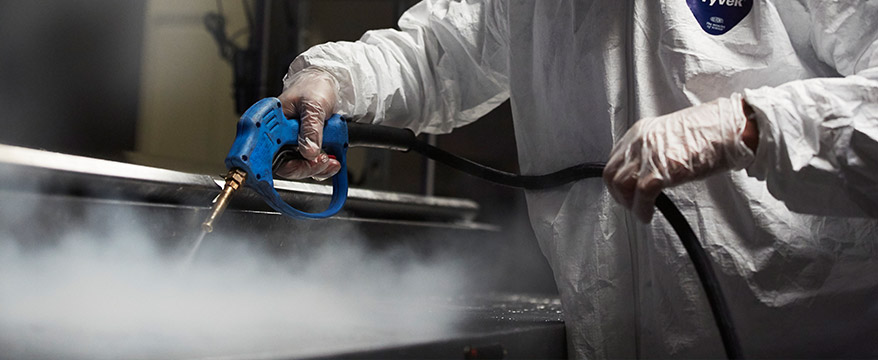 Commercial Kitchen Safety Services
Due to their nature, commercial kitchens often require more strenuous cleaning procedures than other establishments. Much more than a janitorial service, our team of infection prevention cleaning experts specializes in Safety and Cleaning services, offering a variety of services that will help you create a more compliant, functional, and safe kitchen.
Commercial Safety: Don't wait until problems get too big to handle — make sure your commercial kitchen is proactive about safety. Our safety audits can help you avoid fines, bad ratings, and closures.
Facility Safety: Our specialized and certified team will help you keep your facility safe by identifying potential issues before they become problematic. We review your current safety programs, conduct surveys, and create a safety assessment for your facility.
Safety Training: Help your staff maintain a safe working environment with effective training protocols. We provide guidance for creating safety procedures and training that will help staff recognize dangers, minimize accidents, and keep themselves and your guests safe.
Safety Equipment: We use our experience and knowledge to recommend the correct safety equipment for your workplace. This includes items such as protective clothing, first-aid kits, and site-specific safety equipment such as slip-resistant mats, guards, and more.
Crisis Management: Even with the best of intentions, you might find your commercial kitchen being shut down. If this happens, it is imperative to have an expert team to help you manage the crisis and make things right again. Our highly experienced and knowledgeable team provides guidance, tools, and assistance to get your business back on track and mitigate the chances of being shut down in the future.

COMMERCIAL KITCHEN CLEANING SERVICES
Industrial Cleaning: Besides being a necessary aspect of running a commercial kitchen, keeping your facility clean offers a myriad of benefits to your staff and guests. Invest in industrial deep cleaning to ensure your establishment looks and smells nice, to keep away pests, to limit accidents and injuries, and to present a good image to your guests.
Kitchen Cleaning: While your kitchen staff can and should do certain daily cleaning tasks, there are some things — such as flooring sanitization, hood and filter cleaning, and stainless-steel buffing — that should be left to professionals. Whether you need a one-time deep clean or recurring services, our experienced team can help. In addition to deep cleaning and infection prevention services, we offer standard carpet and window cleaning, bathroom cleaning, and janitorial services.
Bar Cleaning: From stubborn dusty shelves to high-traffic bathrooms, we help you keep your bar area clean, functional, and sanitary. Our detailed deep cleaning focuses on key touchpoints and problem areas such as drains, front-of-house tables and floors, and cleaning and sanitizing back bar areas to ensure your bar is presentable and pest-free.
Commercial Sanitation: Just because it looks clean doesn't mean it's safe. In a commercial kitchen, clean and sanitary surfaces aren't just preferable, they're also ethically and lawfully essential. If you want to maintain true cleanliness in your kitchen, a professional sanitation team is a must. We offer services such as Dry Vapor Cleaning and ATP testing to give you the sanitary kitchen you need.
High-Level Dusting: A dusty kitchen not only looks unappealing, but it is also a fire and health hazard. While everyday staff may be able to remove dust from shelves and appliances, high areas such as exposed beams, pipes, and vents are more difficult to clean. With our special tools and years of experience, we can help you remove dust buildup from high and hard-to-reach areas.


Contact Us
(833) 472-3548